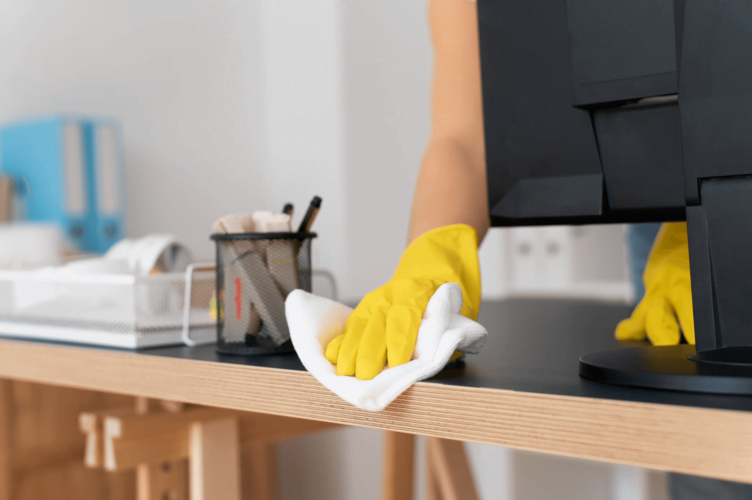 You have a lot to do as a business owner. You're always occupied with tasks like overseeing finances, managing staff, and making sure customers are satisfied. Maintaining a clean and organised workstation might not be at the top of your list of priorities, given everything you have going on.
But you have to make commercial cleaning your priority!
It is a well-known fact that a tidy workplace increases employee productivity. Additionally, a spotless working environment enhances the company's brands. A clean and organised workplace is not only attractive, but it also shows the business cares about the welfare of its employees by improving their working conditions!
In this blog post, we'll outline 7 benefits of why hiring a commercial cleaning service is best for your workplace!
7 Advantages of Commercial Cleaning Service
Expertise and Specialised Knowledge
Professional commercial cleaning services have a wealth of experience and specialised understanding when it comes to keeping a workspace clean and hygienic. Advanced methods, tools, and cleaning supplies are available to trained and experienced cleaners so they can successfully handle a variety of cleaning issues.
They are experienced in the best cleaning methods for various textiles, surfaces, and building materials, assuring a thorough and secure cleaning procedure.
Customised Cleaning Plans
Every firm has specific cleaning needs based on their industry, workspace layout, and foot traffic. Office Cleaner Part Time understand this and offer cleaning plans that are customised to your particular requirements.
They collaborate closely with you to decide on the frequency and extent of cleaning needed, making sure that each area of your office gets the care it needs. They customise their services to your company's needs, from routine cleaning schedules to one-time deep cleanings.
Time and Cost Efficiency
By outsourcing your commercial cleaning needs to experts, you can spend more time and money on the core business operations. When done internally, cleaning can be a time-consuming activity that takes important staff time away from their primary responsibilities.
You can increase production and efficiency by giving the task to professionals. Professional cleaners also bring their own tools and supplies, so you won't need to spend money on expensive cleaning equipment.
Health and Safety
The well-being of your staff and customers depends on maintaining a clean and healthy atmosphere. Professional commercial cleaning services follow strict hygiene guidelines and use disinfectants that are approved by the industry to successfully get rid of germs and bacteria.
The continuous COVID-19 pandemic makes it crucial to provide a safe workplace. Professionals keep up with the most recent guidelines and best practices, giving you access to a clean, hygienic atmosphere that lowers the risk of illnesses and infections.
Better Air Quality
The quality of the indoor air significantly influences the general health and comfort of your employees. Over time, dust, allergens, and pollutants can gather in carpets, upholstered furniture, and ventilation systems, causing allergies and respiratory issues.
To improve the quality of the air, experts use advanced cleaning methods. They give carpets, upholstery, and other surfaces a thorough cleaning and sanitisation, resulting in a clean, healthy environment that encourages well-being.
Enhanced Professional Image
A tidy and well-maintained workspace says a lot about your company, and first impressions count. A clean and organised workplace makes a good first impression and encourages confidence in your professionalism when clients or consumers visit your office.
Professional commercial cleaning services make sure that your office always looks its best, boosting the reputation and image of your brand. Employee morale is also increased by a neat and welcoming setting, resulting in a relaxing and inspiring work environment.
Consistent Cleaning Standards
The standard of cleaning during in-house cleaning varies based on the individual responsible and their availability. On the other hand, professional commercial cleaning services follow strict guidelines to guarantee consistency and reliability.
They have a group of qualified experts who use standardised procedures to get reliable outcomes. You can rely on the same quality of cleanliness and attention to detail to be maintained, whether cleaning is done daily, weekly, or monthly, giving you peace of mind.
Hire a Professional Commercial Cleaning Company
An office that is clean, healthy, and organised could benefit from using professional cleaning services. By outsourcing your cleaning needs, you can enjoy a tidy, hygienic, and well-maintained workspace, which will free up your time to concentrate on your core areas of business and leave the cleaning duties to qualified professionals.
Choose SB Cleaning Services if you want trustworthy and excellent commercial cleaning services. SB Cleaning Services is the best choice for keeping a spotless and hygienic workplace. Our team of qualified experts uses cutting-edge techniques and eco-friendly products to provide great outcomes.
SB Cleaning Services can help whether you require a routine cleaning or more specialised services like carpet or window cleaning. Hiring SB Cleaning Services ensures a tidy and inviting environment that boosts productivity and makes a good impression. You can connect with our cleaning team to schedule your service!